BATTERY ENERGY STORAGE SYSTEM & ENERGY MANAGEMENT SYSTEM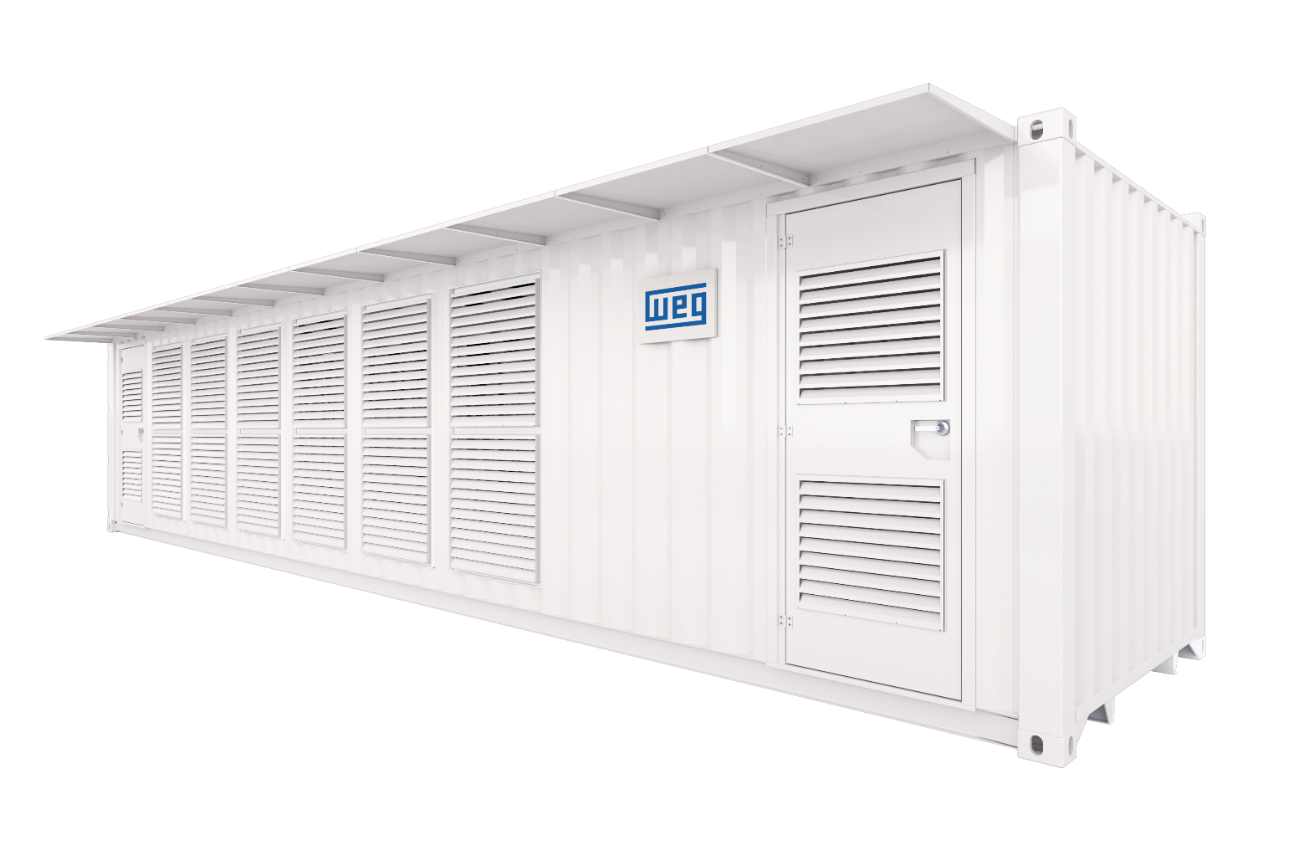 WEG AUTRIAL'S BATTERY ENERGY STORAGE SYSTEM & ENERGY MANAGEMENT SYSTEM
WEG AUTRIAL consolidates its position in the photovoltaic sector with its DC and AC combiner panels/cabinets, monitoring & control systems with an equivalent of 3.6 GW in projects worldwide.
WEG AUTRIAL widens its catalogue with the Battery Energy Storage System (BESS) and the Energy Management System (EMS).
WEG AUTRIAL Battery Energy Storage System (BESS) provides the following characteristics:
Container-based solutions, highly flexible (for augmentation strategies) and scalable (from commercial to grid-scale power generation applications).
High power lithium-ion technology.
Warranty of 10 years as a standard, extendable to 20 years.
Up to 4000kWh battery capacity and up to 1500V system voltage.
Integration of: Battery Management System (BMS), HVAC, fire protection and auxiliary components.
Rise of output power from 0 to 100 % in 55ms.
The battery storage units are delivered preconfigured to site and can be put into operation within a short time.
Bankability:
Robust warranty, guaranteed by tracking the performances of BESS and PCS and comparing them to the manufacturers' warranty limits.
Owned design and manufacture of the energy storage containers in WEG factory, to assure closed quality control system.
Integration of market-leading technology, lithium-ion batteries from long-established battery suppliers able to provide performance warranties of up to 20 years on their Li-ion cells.
Our products comply with existing Codes, Standards and Regulations (CSR) such as IEC 61427-2 "Secondary cells and batteries for renewable energy storage Part 2 On-grid applications".
WEG AUTRIAL Energy Management System (EMS) includes the following features:
It is composed by the following subsystems:
Photovoltaic plant monitoring (inverters, grid meters, grid protection relays, weather stations, trackers, transformers, switchgears, etc), KPIs, data storage.
Power Plant Controller (PPC), for active power control and reactive power compensation. Compliant with the most demanding local grid regulations and remotely manageable by the grid regulator.
It integrates at the same level the Battery Management System (BMS) and the Power Conversion System (PCS) to maximise the battery performance and longevity.
It integrates scalable PCS-battery systems and their auxiliary services.
Flexible PC-based controller built on multipurpose industrial servers. It allows updates to be installed remotely via a secure VPN, in a fast manner.
Implemented with four-tier network architecture, using hardware firewalls and cyber security best practices.
Vendor independent: EMS can integrate any Battery Management System (BMS) and Power Conversion System (PCS) in the market.
Local control via HMI or remote control via web portal with differentiated user-profiles in multi-platform (desktop, tablet and smartphone).
Internal communication layer with Modbus and external gateways using IEC 60870-5-104, IEC 61850, DNP3 or Modbus TCP.
Our platform is designed to adapt to changes in the market conditions, future-proofing energy storage investments for both energy producers and regulated utilities.
WEMS controls the energy storage system and the photovoltaic plant generation, using advanced analytics based on real-time and forecasted data to predict future needs.
Added value: frequency regulation, voltage control and power factor correction, ramp rate control, peak-shaving at high load or high feed-in period, load shifting, spinning reserve, islanding support, alarms management.