WEG AUTRIAL SUPPLIES THE CYBERSECURITY SYSTEM FOR A 60MW PHOTOVOLTAIC ...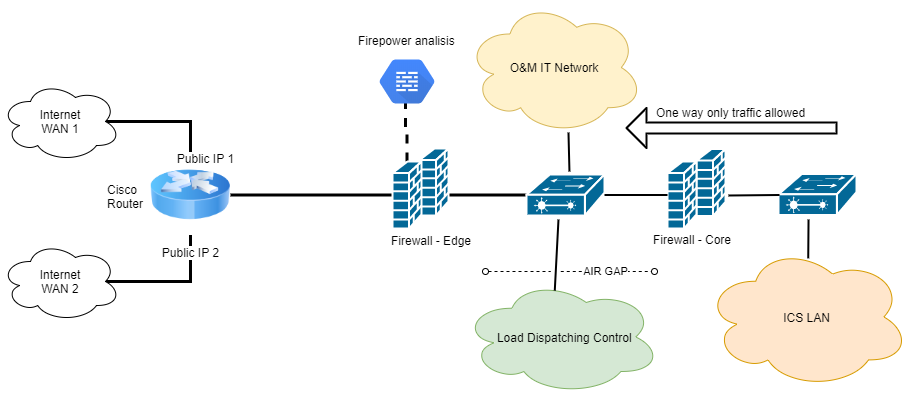 WEG AUTRIAL SUPPLIES THE CYBERSECURITY SYSTEM FOR A 60MW PHOTOVOLTAIC PLANT.
WEG AUTRIAL consolidates its position in the photovoltaic sector with its DC and AC combiner panels/cabinets, monitoring & control systems with an equivalent of 3.6 GW in projects worldwide.
WEG AUTRIAL widens its catalogue with the cybersecurity system applied to photovoltaic plants.
In 2017, WEG AUTRIAL designed, supplied and commissioned the SCADA for this 60MW photovoltaic plant, including communication boxes and racks, with hot-standby redundancy for the critical servers and gateways. The system included a Power Plant Controller (PPC) compliant with the demanding local grid regulations, managed remotely by the national electrical company and it also integrated the accounting and billing system.
Recently, WEG AUTRIAL has completed the SCADA system with the design, supply, installation and commissioning of the cybersecurity system. The main features are:
Four-tier network architecture, each tier separated physically/logically:
Quadrant 1 Corporate Network
Quadrant 2 O&M IT Network
Quadrant 3 ICS LAN (Plant Monitoring Interfaces, Accounting and Billing system)
Quadrant 4 Load Dispatching Control
Quadrant 2 - O&M IT Network
· Quadrant 2 is completely isolated or air-gapped from Quadrant 3 & 4.
· The IT Network is isolated from the Internet by implementing a (DMZ) demilitarized zone using firewalls and (IPS) intrusion prevention systems.
· The Web server accessible via internet is protected by web application Firewall (WAF) in a demilitarized zone.
Quadrant 3 - ICS Networks:
· The architecture avoids single point of failure by means equipment high availability and redundancy.
· The corporate IT network is separated from the Industrial Control Systems (ICS) by means of a demilitarized zone (DMZ) architecture with hardware firewalls.
· Intrusion detection and prevention systems are implemented.
· VPN tunnels via hardware firewalls for the maintenance teams of critical devices such as inverters, trackers and billing system to access their devices directly, using the IP of each device.
All Quadrants - ICS & IT Networks:
· All servers and workstations have the latest compatible version of anti-virus and anti-malware installed.
· The removable storage media including USBs and DVDs have been disabled.
· Operating systems, hardware and software technologies are supported by manufacturer and have the latest security patches installed.
· Only software which is necessary for the correct functioning of the ICS/ IT system is installed.
· All ICS/ IT systems have a comprehensive and documented backup plan in place, including regular backups and testing of the restoration process.
· All administrative privileges on workstations have been revoked and administrator passwords on servers/workstations have been changed.
· BIOS has been password protected.
· Firewalls block the traffic from/to the suspicious countries.
· A disaster recovery plan has been elaborated. CASO / QUE TIENE DE ESPECIAL?
Do not hesitate to request our support to make a detailed proposal of the SCADA, PPC and cybersecurity systems for your photovoltaic plant.